The new normal is here to stay.
One of the most important aspects of building your startup is to establish strong communication practices from the very beginning. You should always be open and honest with your customers about what you're offering and how it works. Clearly defining your company's goals and priorities is also important.
Social media is a powerful tool that can help you reach your target audience – but it's not the only tool in your arsenal. In this article, we'll explore some other options for communicating with your target audience that can complement your social media strategy.
Before You Begin: Know Your Target Audience
There's no one-size-fits-all when it comes to the target audience. There are many factors that determine who you want to reach and how you can best reach them.
It's also important to think about whether your overall marketing strategy aligns with your overarching business objectives as well.1. Know who your target audience is. It's important to really think about who you're trying to reach with your content. 2. Go where they are. Make sure you're active on the same channels as they are.
Revitalize your Blog Content Strategy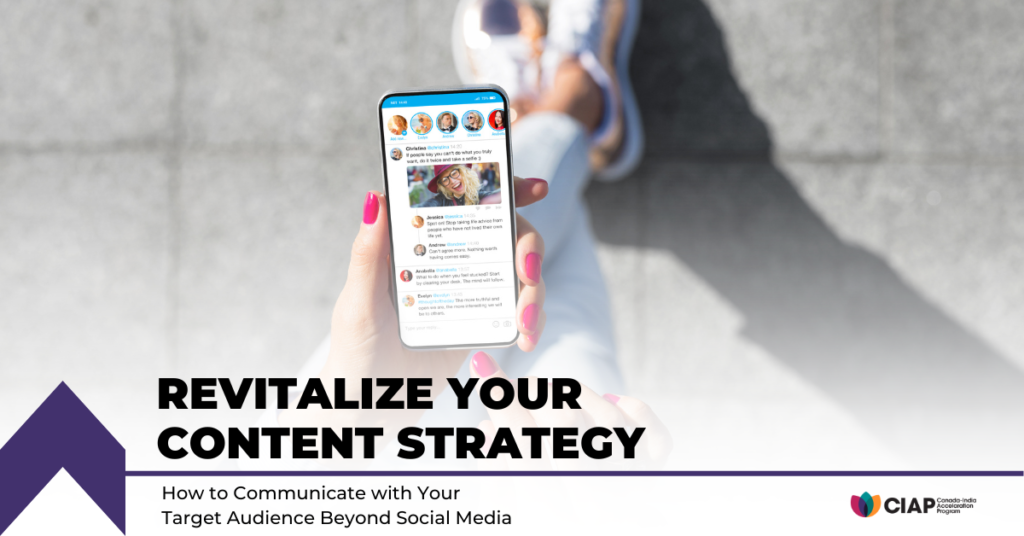 Content marketing is a great way to communicate with your customers and prospects. It helps you to build your brand, generate leads, and increase sales.
Your blog posts should be helpful, informative, and interesting to your target audience. Write about topics they care about and offer valuable insights or perspectives. Be consistent. Regular updates will keep people coming back for more. Post new articles frequently and promote your latest content across platforms like Reddit, Quora, and other niche forums.
Also, remember that regardless of how great your content is, it won't gain traction without a targeted strategy behind it. By focusing on developing a comprehensive content marketing strategy, you can ensure that all of your blogging efforts are working towards long-term goals.
Helpful Resources:
How to Develop a Content Strategy in 7 Steps: A Start-to-Finish Guide
How to Write a Content Marketing Strategy Step-by-Step
60 Blog Post Ideas to Fill Your Content Calendar (Updated)
Utilizing Live Video/Streaming
Live video content is a great way to stay in touch with your customers. It is a way to connect with the customer in real-time, which creates an emotional connection between the two parties; it also allows you to convey more personalized messages.
Video is one of the fastest-growing marketing channels in use today. If you are live-streaming your video or making it available for on-demand viewing, you can reach a wider audience than just through your pages' follwings. Video can be great for long-form content as well as shorter clips used in advertising and marketing campaigns.
Helpful Resources:
How to Engage Your Audience with Live Streaming
10 Ways to repurpose your livestream and get more from your content
13 Exciting Livestreaming Ideas To Connect With Target Audiences
Explore Augmented Reality
Marketers can use augmented reality to create immersive experiences for their customers. They can use it to market the company's products in the store or use it to showcase the company's history and culture.
While still in its early stages, augmented reality has plenty of opportunities for marketers as more consumers look for immersive experiences beyond social media. It's worth taking a serious look at how you could use these tools in your own marketing plan.
As more companies use AR technology, consumers will demand it—meaning advertisers have an opportunity for growth in that department. Exploring the potential of this space early is to your benefit Start by investing in some technical knowledge—you'll need a solid understanding of how AR works before you can put it into action for your business.
Helpful Resources:
8 Innovative & Inspiring Examples of Augmented Reality in Marketing
How Augmented Reality Can — and Can't — Help Your Brand
5 ways to use Augmented Reality in your marketing strategy
Direct Communications in a Digital Era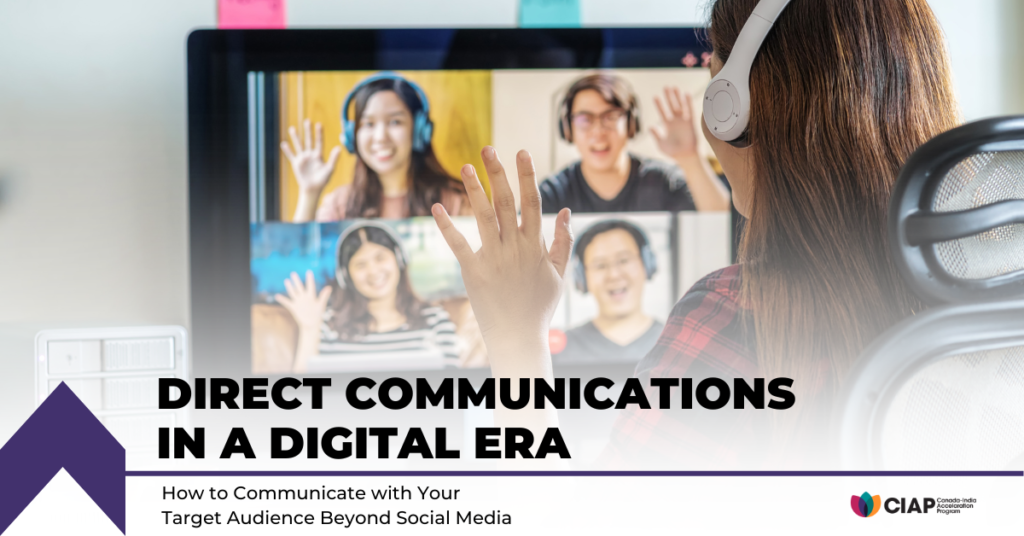 Start a Podcast
Do you have a way with words? Do you like talking to others about your business or industry? Starting a podcast is a great way to build your brand's reputation and become an expert in your field. It can also help you generate leads and drive sales. Before starting one, make sure it aligns with your overall marketing goals and that you can commit enough time and resources toward it.
Podcasts are an effective way of reaching out to your customers because they are not limited by geography or time. They can be listened to anytime, and provide a more personal connection with the listener as opposed to just reading text or watching a video, which can often feel impersonal.
Helpful Resources:
28 Marketing Podcasts That Inspire HubSpot's Content Team
5 Podcast Ideas for Your Content Marketing Strategy
We Didn't Know How to Promote a Podcast. So Here's All We Learned
Offer Live Chat
Live chat allows you to communicate with customers in real-time and it could be an important part of your customer service strategy. Live chat can be used for many different purposes such as providing instant support to customers looking for help, providing insight and resources about your products or services, and to build a connection with the client.
Live chat not only lets you talk one-on-one with visitors to your website, but also gives you an insight into what they're looking for and how they feel about your brand. This way, you can use this data to solve problems with your customer journey and develop a better overall customer experience.
Helpful Resources:
A guide to the best live chat software
4 Advantages to Adding Live Chat to Your Website.
11 Best Live Chat Software in 2022
SMS Marketing
The advantage of using SMS as a marketing tool is that it is cheap, direct, and personal. It also provides a sense of urgency for the customer to take action.
SMS can be used to send out updates about products or services, promotions, or any other information that would be relevant to the customer. It can also be used as a way for customers to contact you in case they have any questions about your company or products/services offered by your company.
Helpful Resources:
The crawl, walk, run approach to launching a strategic SMS program
The Beginner's Guide to SMS Marketing: Everything You Need to Know
SMS Marketing Doesn't Suck: Here's How to Use it To Generate Revenue
Key Takeaway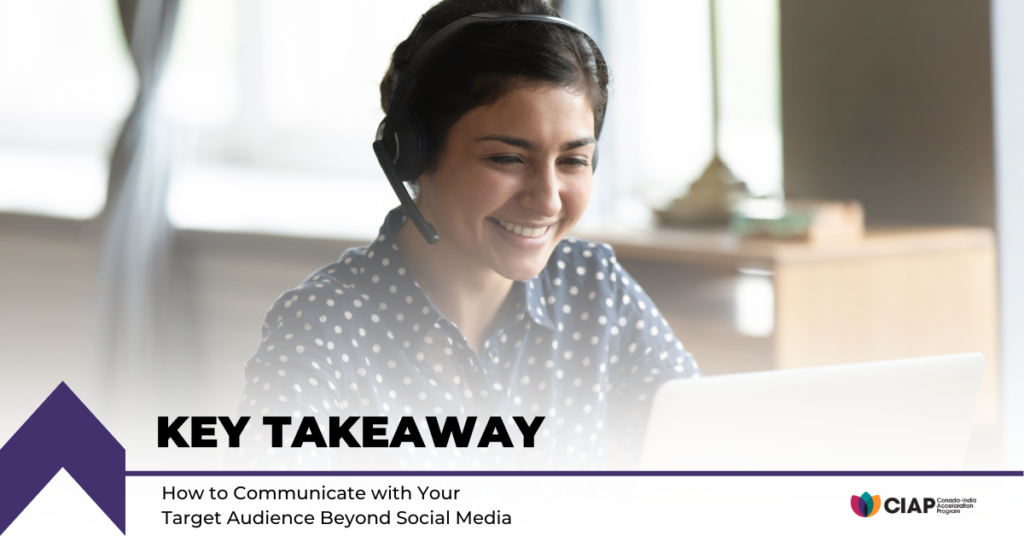 Communication is vital for any startup. Whether you're creating a new product or service, or just trying to get your name out there, it's important that you have an effective way of communicating with your target audience. While social media has become one of the most popular ways of reaching out to customers, it isn't always going to be enough. If you want your business to grow and succeed, you need to find other ways of connecting with your target audience on their terms.
What type of communication method are you going to implement into your business?