If you have an idea for a startup, support is available. A lot of it. There are incubators, accelerators, angel investors, seed funding, venture capital firms and many other programs focusing on helping women launch their projects. It doesn't guarantee success, but having accessible tools, resources, and capital makes a huge difference.
A few years ago, the landscape looked very different. In countries like India, breaking conservative stereotypes and thriving was difficult. The ratio between women and men in entrepreneurship was alarming. We believe it's important to look at the stories of women who have taken the plunge, overcome obstacles and learn from their strategies.
If you are a Canadian entrepreneur looking to gain perspective on how women start their companies and grow on the other side of the world – you will find this article resourceful.
If you are interested in learning more, we also have a similar post highlighting Canadian Entrepreneurial stories. Behind the Tech: Women Highlight Series
Anikiti Bose, CEO of Zillingo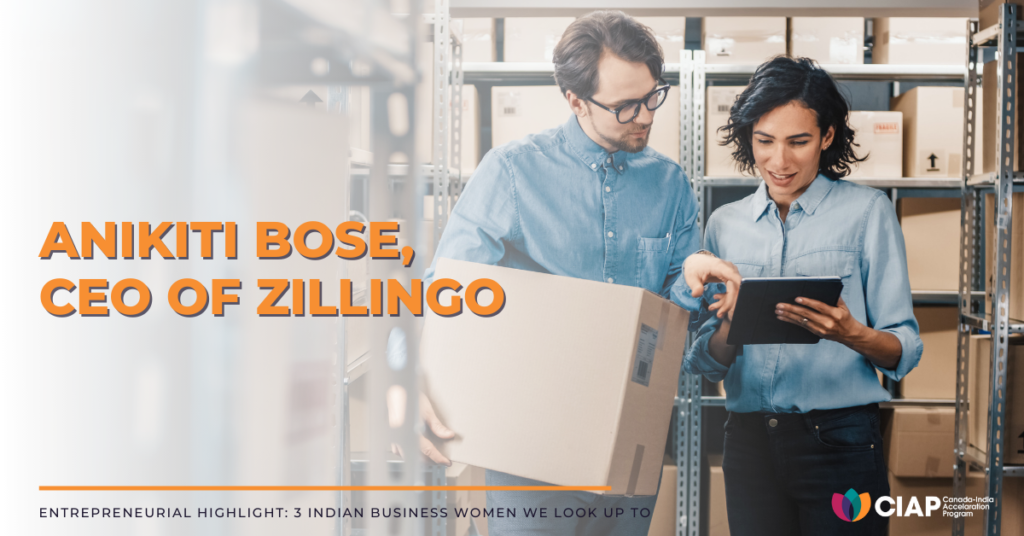 Ankita is a mathematics and economics graduate from St.Xavier's college in Mumbai and worked in the consulting and investment space at Mckinsey and Sequoia capital. Her role involved analyzing small and medium startups, understanding their investment portfolios and various operational aspects. Ankita was always passionate about entrepreneurship and starting her company.
A trip to Thailand with her friends was life-changing for Anikita precisely when she entered the famous all-night 'Chatuchak' market in Bangkok. The epiphany was that there were thousands of sellers, selling goods and services without any online presence. It is from there that the idea of starting 'Zillingo' was conceived. She eventually met her business partner Dhruv Kapoor who was just not only as enthusiastic about entrepreneurship but also had similar values and ambitions.
Zillingo is a business-to-business model enabling seamless sourcing of textiles and apparel to create a transparent and cohesive supply chain management for everyone – wholesalers, retailers, distributors, factories, etc with innovative products and services.
Zillingo started with the idea of helping merchants but grew into a diverse portfolio becoming India's first B2B unicorn at a $1 billion valuation. It serves 30,000 merchants across 14 countries in Asia, United States, and plans to expand into Australia. Ankiti was listed on the Forbes 30 under 30 list in 2018, Fortune 40 under 40 in 2019, and also in The Bloomberg 50 in 2019.
The USP of Zilingo was the no registration or licensing fees for merchants to host their services on the platform. The revenue model involved charging a 10 – 20% commission on the sales generated on the platform. The company invested in building robust inventory management systems, tools for insights and analytics, omnichannel platforms, MES software for factories and everything that one needs to seamlessly connect clients with vendors globally.
Upasana Taku, COO, MobiKwik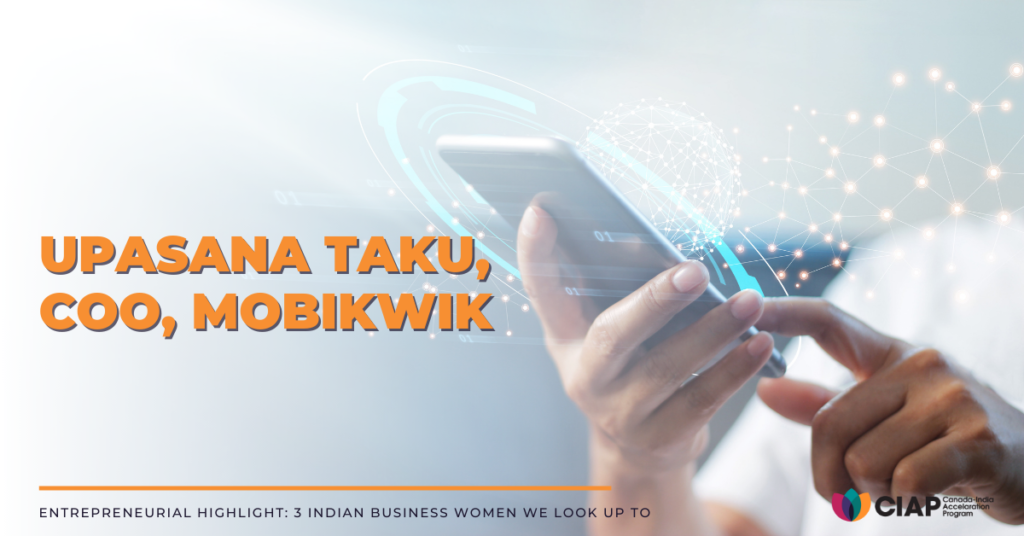 Upasana comes from an industrial engineering background but has always been interested in education. She went on to pursue her Master's in Science and Engineering from Stanford University. Later, she joined Paypal where she was introduced to the world of finance, payment management systems, risk, fraud management etc.
Upasana's stint in the United States helped her gain enough experience, confidence, and the seed to start her own company. She returned to India in 2008 and realized that an economy like India needed cashless payment systems. Upasana met her then partner and now husband Bipin Preeti Singh who brainstormed towards starting Mobikwik.
Mobikwik started off as a simple application that lets customers recharge their prepaid mobile phones by adding money to their digital wallets. They built on the app adding more features like paying bills, instant money transfers, credit card payments and other functional features to maximize and encourage cashless transactions.
Mobikwik started as a fintech startup to encourage Indians to move towards digital transactions, but with unique features and strategic product development is now the strongest competitor to Paypal India. They grew from a 6 member team to a 50 member – $5 million valuations to raising $25 million through Sequoia Capital, Amex, and Cisco Investments – all in 7 years. Today the company is valued at $500 million and is going to go public in 2021.
Chitra Gurani Daga graduated from the Indian School of Business with an MA in Strategy and Leadership. She and her husband Abhishek Daga are travel enthusiasts, so it was only fitting for them to start a company like 'Thrillophilia'. The idea behind the company was to organize outdoor adventure activities through the internet. The couple thus launched their website in August 2009 based out of Bengaluru, India and began operations to grow the business.
Working with the right vendors and planning the right activities is a business model with great potential but also high risk. However, Chitra managed to mitigate risks and build the brand's presence by leveraging social media channels like Facebook, Instagram, and Twitter. She also runs a blog where she engages with her customer base regarding her experiences and helping people experience the true joy of travel. 'Stick to the basics and the fundamentals of running a business', was their mantra. It started as a B2B industry, providing access to activities then moved towards a hybrid style of operations to increase the B2C customer base and grow through a more experience-based model.
Thrillophillia is India's largest experience provider with over 8000+ activities across 200 cities, 3500 providers, and a 3M website user base. All of this was achieved without chasing money for the brand but rather investing in research and community service to make things easier for travellers.
Key Takeaway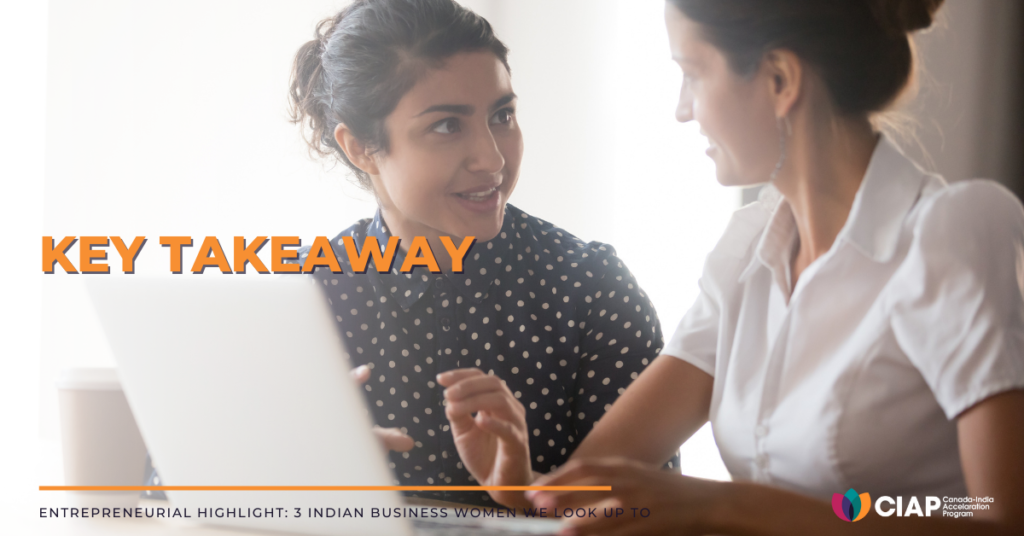 The common denominator for all these success stories is the passion for entrepreneurship and approaching it with a solutions-based startup. Another unassuming determinant is finding the right partner who is just as passionate about the project as you are. Not to forget that most companies, like the ones listed here or otherwise, succeed better with an open mindset.
If you'd like to read about some of the realities of being a woman entrepreneurs in India, check out our article Conducting Business in India as A Woman.
Finding a niche is one of the hardest parts of founding a business. But pivoting strategies, improving product offerings, and tweaking according to the market needs is the secret of incremental growth. It helps with raising capital and eventually going public or turning into unicorns.
How important do you think it is to delve into success stories or the journeys of global entrepreneurs to get a perspective on things at home? We love to hear your thoughts on this.