The Canada-India Acceleration Program is designed to help women-led Canadian businesses grow their ventures through international expansion to emerging markets, like India. We do this by providing access to mentorship from global entrepreneurs and industry leaders, valuable resources and toolkits, meaningful connections to corporations, and the opportunity to pitch to investment panels.
CIAP has two primary phases: ScaleCamp and Soft-landing. Through these two steps, our program ensures that our companies are set up to successfully launch their startups within the Indian market.
If you'd like to learn more about the Soft-landing phase, check out our blog CIAP + LEAD ANGELS: Finding Funding for Your Business Expansion to India. 
Being the first phase of CIAP, ScaleCamp is a crucial component in the journey to international expansion. Let's go over why this portion of our program is valuable and what you may expect from it.
The Objectives of ScaleCamp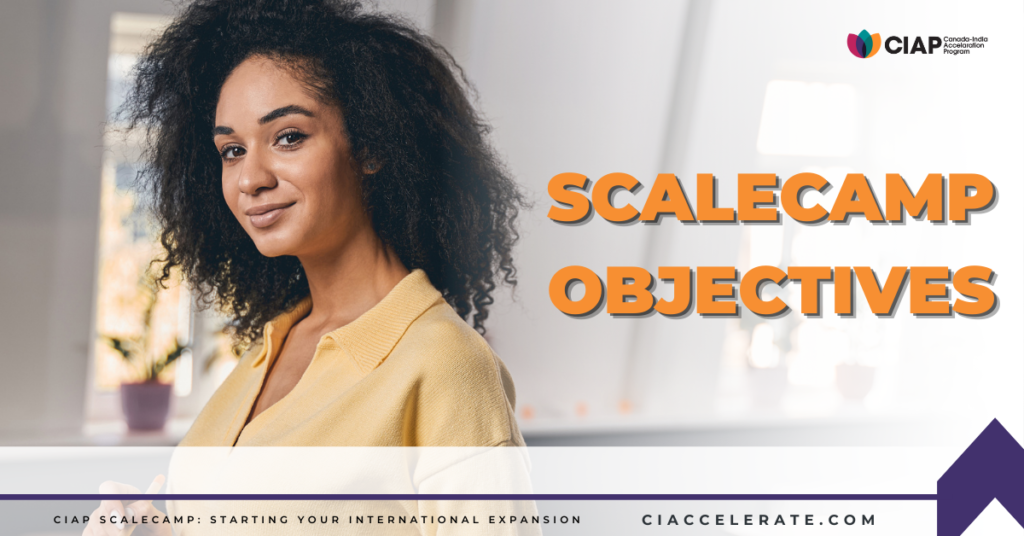 Scaling your business internationally has many moving parts. As a business leader, your days are filled to the brim with all the elements that come with running a startup. To make the most of your time while still ensuring the highest rate of success with your expansion, CIAP provides intensive training sessions spread out throughout your time participating in the program.
Our ScaleCamp is designed to provide you with many resources and a wealth of information that will be the foundation of the next steps in scaling your business. With industry-leading knowledge partners, we introduce our cohorts to both tactical strategies in navigating this process as well as market research specific to your industry within India.
In addition to the presentations from experts, ScaleCamp is a great opportunity to connect with the rest of your cohort. With ample opportunities to engage and to share your startup's approach, the experience is a time to meet fellow women leaders.
"It's been an amazing week! Lots of learning from experts in the field, meeting some great entrepreneurs. All of the ladies have been amazing. It's a network that I'll be taking forward, connecting with them, learning from their experiences."

-  Rashmi Bhambhani 
Highlight Topics: What Will I Learn?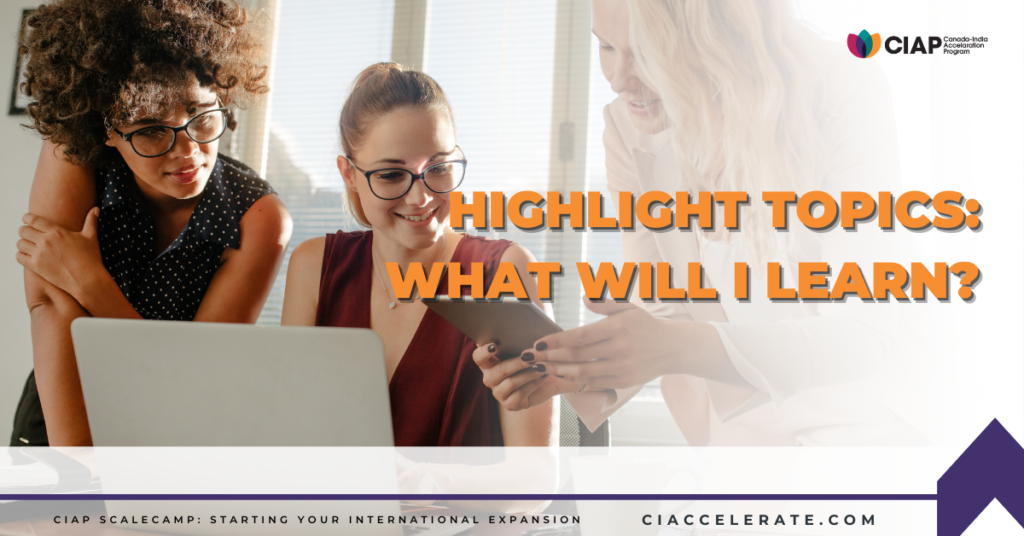 ScaleCamp's most valuable point is the information and training it provides for our entrepreneurs. Every company comes to the program at different stages of development and with varying levels of familiarity with the Indian market. We aim to maximize the time we have for ScaleCamp to provide quality content.
Our main focuses during ScaleCamp are the operational elements involved in an international expansion and the knowledge needed to tap into new markets. While globalization is levelling the playing field, there are many cultural-specific considerations to be made when approaching a different target audience.
During ScaleCamp we cover elements such as confirmation bias and cross-cultural sensitivities. We dive into what elements are more valued within the Canadian ecosystem in contrast to the perspectives from emerging markets.
"[The highlight was] Being introduced to an international global market. The overall process on how to understand a new market, what are features and avenues to explore. Helped understand how business in a country like India happens."

– Bhairavi Shankar, PhD
In addition to the cultural elements, ScaleCamp dives into operational and strategic techniques and models that help companies scale successfully. We prime our cohort to think of their businesses from a different lens through various activities and group discussions. Diving into specific trade agreements between Canada and India and other avenues that are available to foster international collaboration, we introduce many viable avenues to pursue.
The ScaleCamp culminates in a pitch competition with cash prizes offered to our leading startups. The objective is to give you a space to apply some of what you've learned and apply it to your business's India-specific ask in a supportive environment.
To get a head start in exploring some rising cities and sectors within the Indian market, take a look at our breakdowns of some tier 2 and 3 emerging cities in India: Indore, Vadodara and Coimbatore. 
Priming Your Next Steps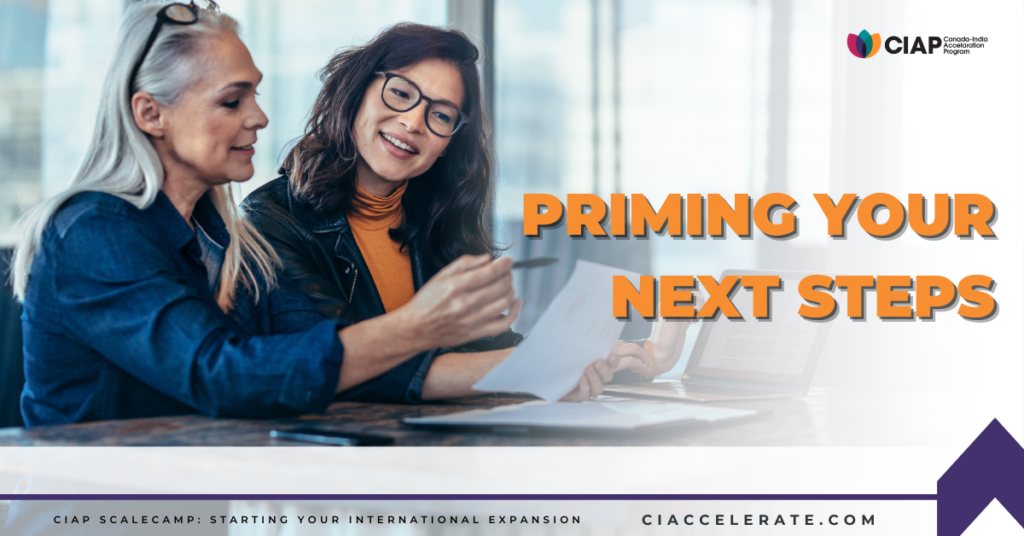 ScaleCamp will fill your toolbox with strategies and knowledge that will build up the foundation for your expansion. In just a few training sessions, you will be introduced to a vast market that is full of potential and opportunities and many ways for your business to tap into them.
Following the ScaleCamp, you will have the tools needed to begin thinking of your business and partnerships from a new angle. With this new knowledge, you could focus on refining both your business's pitch as well as your overall key objectives. Designing a feasible roadmap for your expansion to India based on your learnings will allow for your experience in the next phase of the program to be more targeted and impactful.
To get a head start, check out our article: 10 Tips for Landing Your Investor's Pitch.
Our next phase, the Soft-landing, involves meeting with various connectors and potential partners. Here, you'll be applying all of the knowledge and techniques covered in the first phase.
Key Takeaway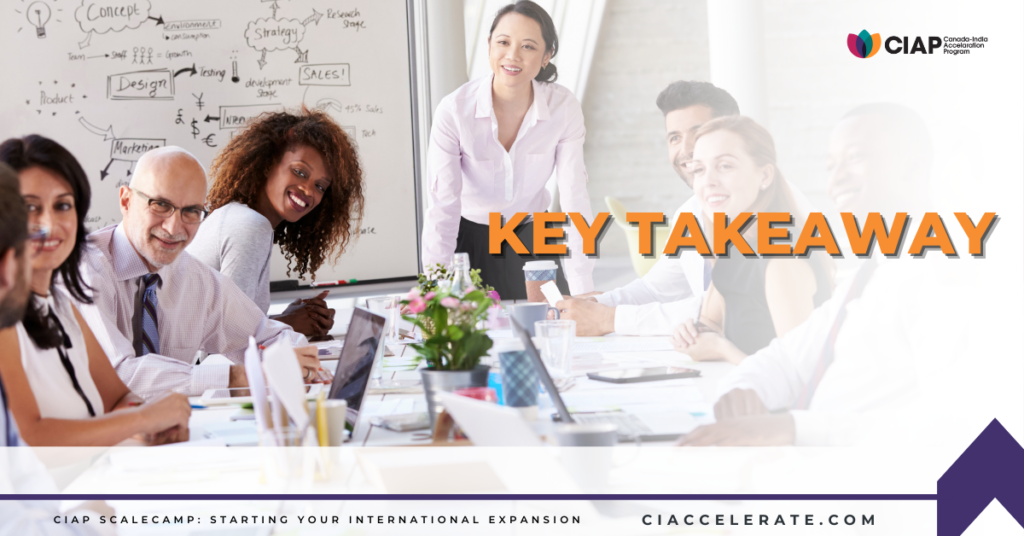 The purpose of the Canada-India Acceleration Program is to help Canadian women-led startups grow by expanding to new markets. It's our main objective to provide you all the tools and resources for a successful international expansion to India.
Our virtual ScaleCamp is where we'll prime you with crucial knowledge and strategies to support your business's next steps. Dedicating yourself to learning specifics about both the new market and how to navigate international business before diving straight in is crucial to successful market entry.
By taking the time during ScaleCamp to approach these areas, you're positioned to confidently tackle the Soft-landing phase.
Submit your application to join CIAP here. 
What do you think is the most valuable area of consideration for a global business expansion?