The pandemic occurring in the 21st century meant that the world as we knew it transformed drastically. Apart from being extra vigilant about sanitizing and washing hands, the way consumers behave, organizations operate, supply chain dynamics and delivery and many more attributes have gone through an overhaul.
While it has been difficult for businesses and governments alike, we note that some consumer patterns established within the last year and a half are here to stay. Today we discuss some of the changes that we predict will persist in the Canadian and Indian markets and how that has opened up new opportunities in developing economies, like India.
If you'd like to read about how the pandemic has affected perceptions, take a look at our article Defining Success with Iliana Oris Valiente During COVID-19.
Canadian Consumer Habits That Have Changed Forever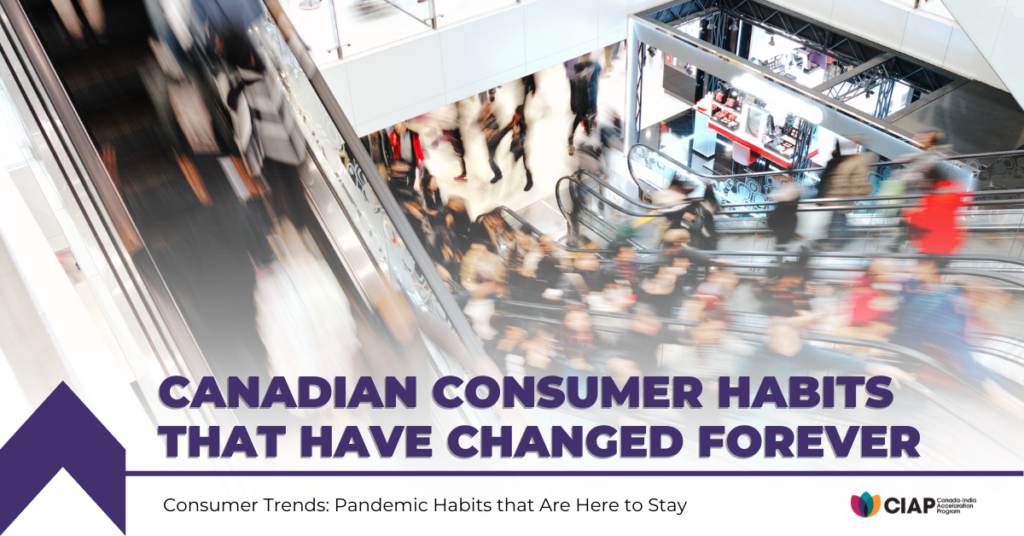 There are some habits that were established prior to the pandemic that were greatly accelerated, such as the increase in online shopping and the importance of having a strong online presence for your business. That being said, there are many smaller habits that have taken root in consumers' day-to-day lives outside of what was previously predicted.
"53% of North American buyers said that the pandemic has changed the way they will shop going forward."

Shopify, Dayna Winter
In Canada specifically, one of the largest consumer shifts was not only how purchases were made but also on what. Categories such as at-home entertainment and improvements saw a huge rise over the last 18 months. Books, toys and games saw a purchasing increase of 6-7%, and 20% of Ontario residents polled stated that they intended to renovate parts of their homes within the next 2 years.
The improvement of one's home has become a priority to many Canadians. In addition, many things that were previously left for outside of the home have now shifted to within. In September of 2020, there was a drastic shortage of at-home gym equipment across Toronto and other major Canadian cities.
In April 2020, at the start of the pandemic, the trend of making sourdough bread at home was hitting its stride. While the fad has passed, for the most part, the fact is that many consumers began cooking at home a lot more. That's not to say that the uses of services such as SkipTheDishes and UberEats didn't drastically increase as well; but as the country opens up, it can be expected that there will be a larger portion of Canadians willing to continue cooking more at home.
Habits Indians Have Adopted That are Here to Stay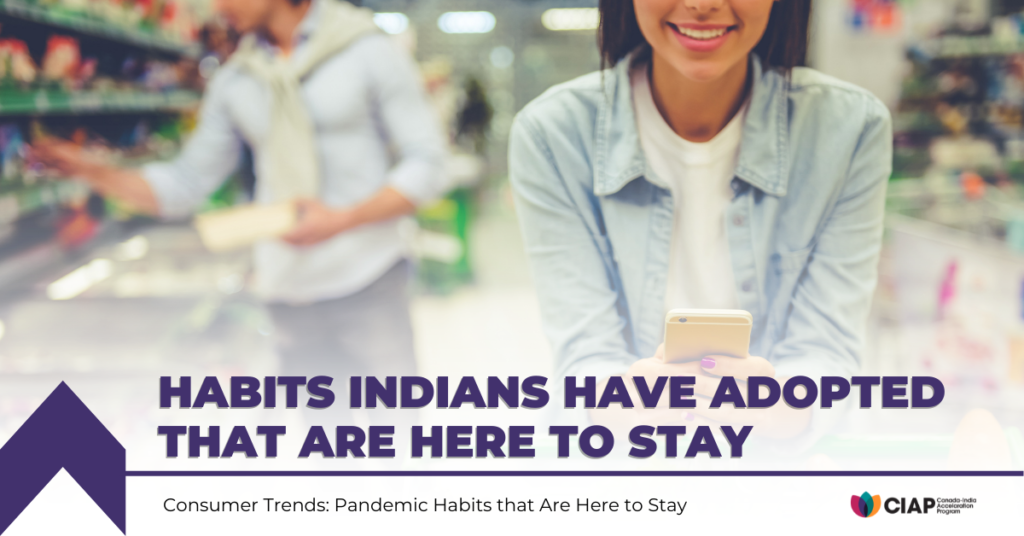 While it's valuable to keep an eye on trends within your home market, analyzing the developments in other economies can lead to opportunities your business could leverage. Many parts of consumer behaviour took a flip during the pandemic, such as online groceries, pharmacy, and food delivery. These evolving habits are crucial for you to consider when it comes to developing plans for the future of your business.
In India, buying and refilling medication was a conventional, in-store process. However, things started to shift towards a home-delivery service in urban cities over the last decade. Given available technology and need, there has been a surge of e-pharmacies. The Federation of Indian Chambers of Commerce & Industry (FICCI) projects this industry to serve over 70 million households in the next 4 years.
Giants like Amazon and other similar players also adopted this model. The reason for this consumer shift can be traced to increased awareness towards immunity, wellness, and natural medication. The urban population shifted gears post-pandemic and are looking to move towards holistic dietary habits, integrating herbs, and an Ayurvedic inclusive lifestyle.
Apart from the big players in the Indian immunity and wellness domain like Dabur, Himalayas, and Patanjali, there is also an increase in startups finding their niche. New-age startups are leveraging the new consumer behaviours through outreach, technology, and digitization of products.
Post Covid-19 Opportunities in India: Doors New Consumer Behaviour has Opened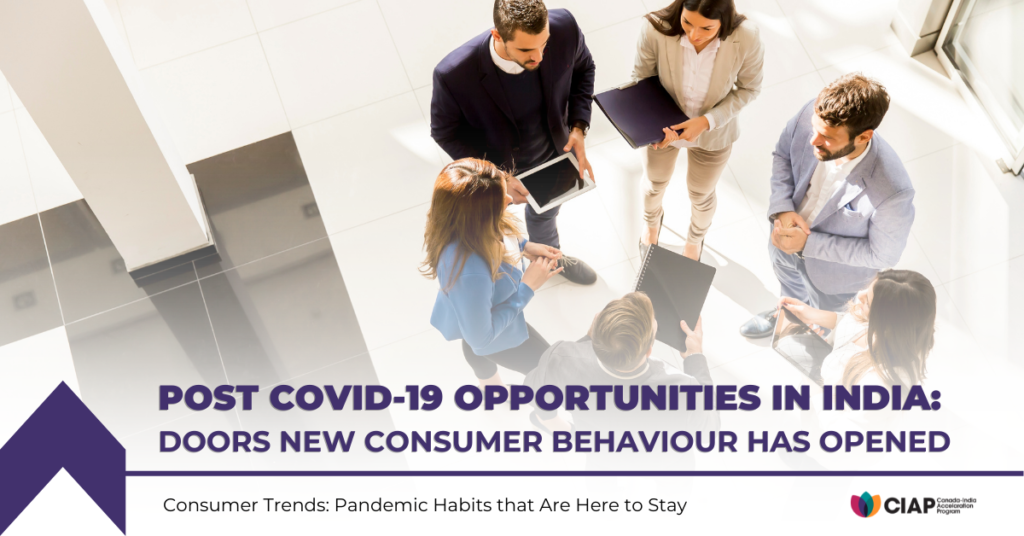 With some perspective on both Canadian and Indian habits that have become the norm following the pandemic, let's take a look at what sectors have been seeing a lot of development within the Indian economy. Recognizing these areas is helpful for startups looking to expand their reach and tap into new markets.
Fintech – The pandemic got a lot of Indians interested in investments, digital wallets, and UPI payments. Reports indicate that transactions valued at USD 270.7 billion will transition from cash to digital and card payments. This number is expected to be USD 856.6 billion by 2030. It is an exciting space and is rapidly growing with over 13 unicorns from the Fintech domain attracting funds and foreign investments.
Sustainable and Local Shopping – While in the past global brands were the most reliable, the idea of focusing locally for procuring produce, apparel, cosmetics, or even cannabis is on the rise. The theme seems to be homegrown but with a global touch. Canadian companies that focus on collaborating with local endeavours can capitalize on this trend.
Cannabis Legalization – Health Horizons is an Indian startup specialized in hemp seed processing has increased its production by 100% just in the last 6 months amidst the country's attempt to legalize cannabis. It is now going to open a host of opportunities in this space whether in R&D, policy creation, or tackling the many challenges in this new industry.
With E-commerce thriving more than ever, startups that found an opportunity in leveraging the sweet spot are the ones that will be in for the long haul. There is great potential and market share that companies can tap into.
Key Takeaway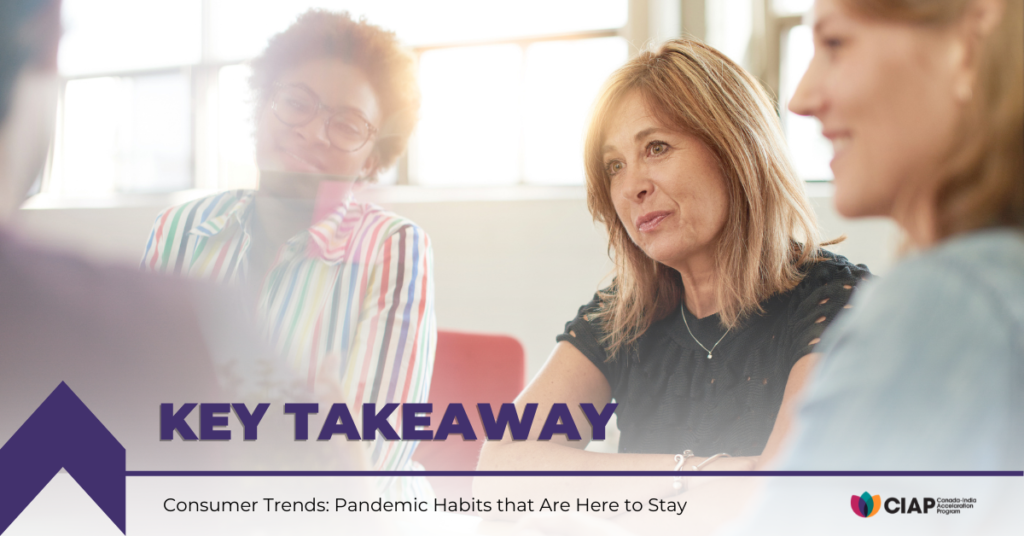 The pandemic has led to many changes in how we conduct life across the globe. In Canada, online shopping behaviour, working from home and the prioritization of investing in more comfortable households have been showing no sign of losing momentum. Similarly, in India, online grocery, food delivery, digitizing cash transactions and further focuses on health and wellness will continue to become more prevalent. With the world-changing as it has, many opportunities have emerged in areas that were previously missed, especially in markets like India.
Keeping these changes in mind is crucial for your business to keep up with how the demands of audiences shift. By conducting regular research on consumer habits, both in your home market and in markets that you are considering for expansion, you are priming your startup to succeed.
What are some habits you've noticed have cemented themselves in people's daily lives?