According to Statista, the internet penetration rate in India went up to almost 45%, compared to the mere 4% in 2007. In such a short period of time, approximately 1.37 billion people in India gained access to the internet.
In an emerging market, like India, this adoption rate signifies an economic and social benefit as its people transition from being a resource-based economy to a knowledge-based economy. The result is being able to access information quickly, connect people to businesses globally, open local companies to new markets, and continue to grow and develop the economy at an ever-increasing rate.
The following diagram created by Deloitte depicts the benefits of internet access with its interconnectedness with each element of the economy and society.
How does India's internet access translate into value for Canadian startups?
The internet has shaped the global stage of business, making it easier than ever for companies to conduct business regardless of the location of the countries or regions being served. Most businesses can thrive without being burdened by border restrictions and the added cost of performing transactions internationally that traditionally hindered their growth and competitiveness. These benefits apply to Canada and India throughout the process of building and maintaining a stronger relationship through strategic investment, opportunities for women, fostering innovation ties, and other collaborations established by each country's governments.
Analyzing the Digital Landscape in India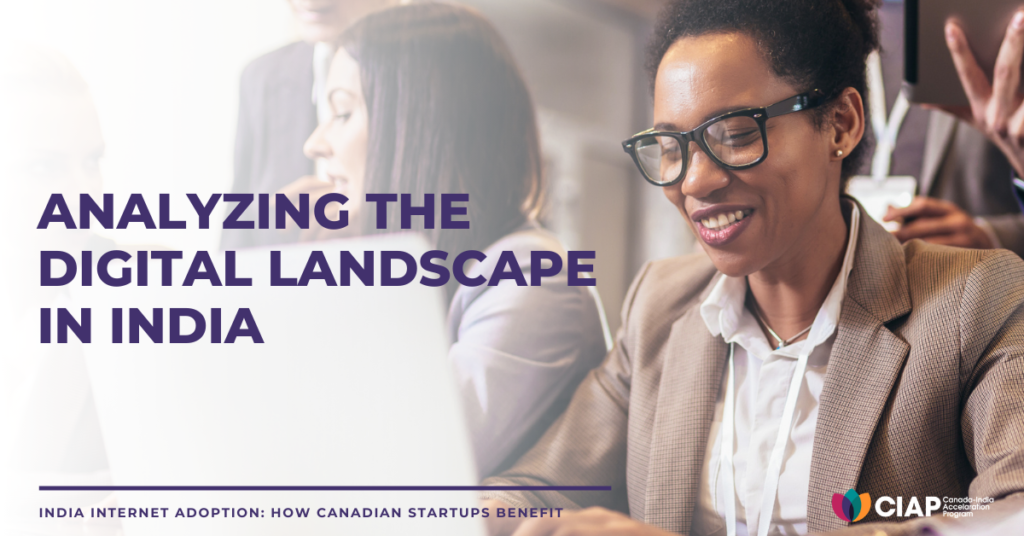 Daily Time Spent Using the Internet
For the 45% of the Indian population that has access to the internet, you can see the average usage rate of internet each day on any device outpaces many of the G7 countries at 06:36, includingChina, another emerging market with a similar population.
According to McKinsey, the productivity surfacing from the digital economy could contribute to creation of 60-65 million jobs by 2025. As core sectors such as digital communications services, electronic manufacturing, business process management, and IT increase in number throughout the Indian economy, it has the potential to increase their GDP from $355 to $435 billion.  The implementation of digital tools in these sectors benefits their productivity on all fronts.
Why is job creation in India imperative for business growth in Canada?
A growing middle class means more discretionary income, which opens up the opportunity to successfully expand your Canadian business to India. It also helps you achieve a sustainable product-market fit for your products or services. A working middle class also contributes to productivity and businesses not only as a consumer, but as a skilled worker too.
Thinking Mobile First: The Impact of Mobile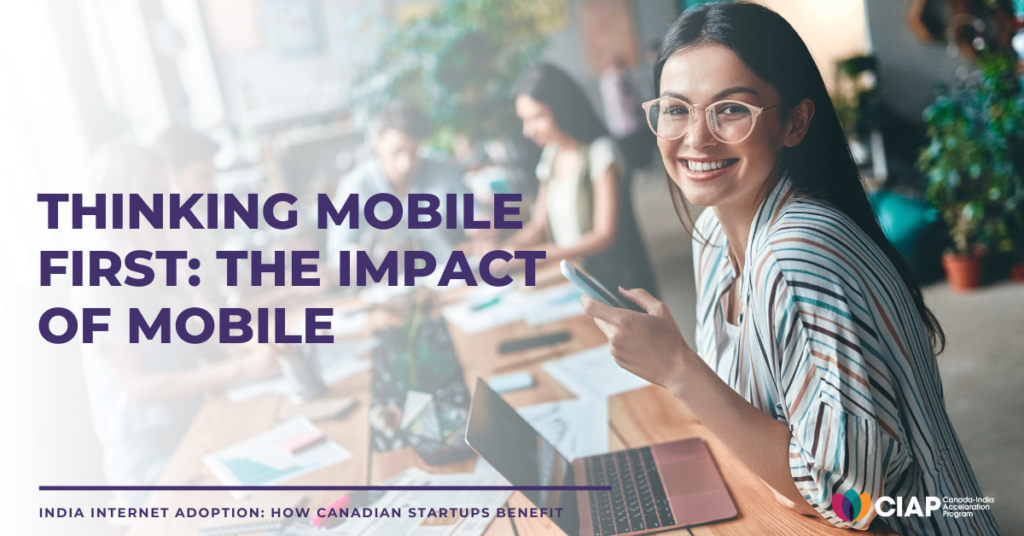 According to The Hindu BusinessLine, app downloads have increased by 28% year-over-year in India, with app spending reaching $143 billion in 2020. Even digital payment apps witnessed a 42% growth compared to the pre-lockdown period.
During the months of August and September 2020, 63% of participants of a survey conducted by InMobi  said they used their phones to discover and learn more about products; 62% stated that they made new purchases through their mobile device.
Why is mobile usage important for an India expansion plan from Canada?
The pandemic has changed the way consumers think and a mobile-first preference is shaping India's economy, moving them into an entirely new way of advertising and marketing. This is important to consider from a market-entry perspective because there are less roadblocks to launching digital campaigns compared to traditional ones including TV, Radio, Print and Out-of-Home.
Voice Search and Voice Commands on the Rise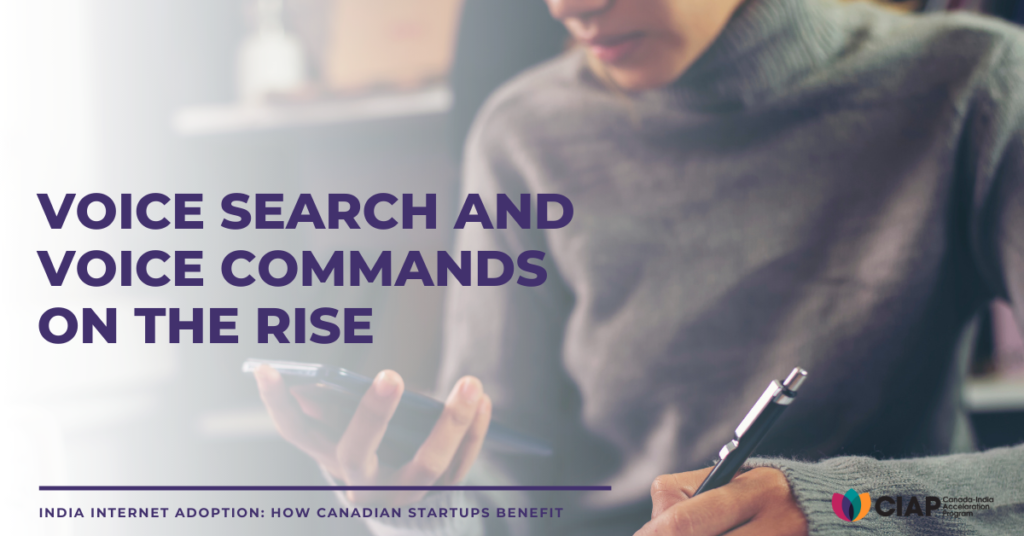 Voice search in India is the highest growing form of search as their acceptance rate has increased by over 270% year over year. India is projected to become the first/largest voice-internet user in the world and Hindi is the second most used language after English for Google Assistant searches.
According to India Business Insider, there is an emergence of voice ad exchanges in India where companies and advertisers can bid for the highest spot in voice search queries to speak to the customer. These voice ads are said to be interactive where customers can engage with and ultimately purchase from.
Why is voice search important for an India expansion plan from Canada?
Utilizing emerging technologies to target your potential customers is always a great way to penetrate the market as you grow your startup. Also, in post-pandemic times, there is a strong need and desire for contactless experiences, conversational commerce, and voice searches. Using this technology can provide a better brand experience with your customers and cater to India's digital usage habits.
Key Takeaway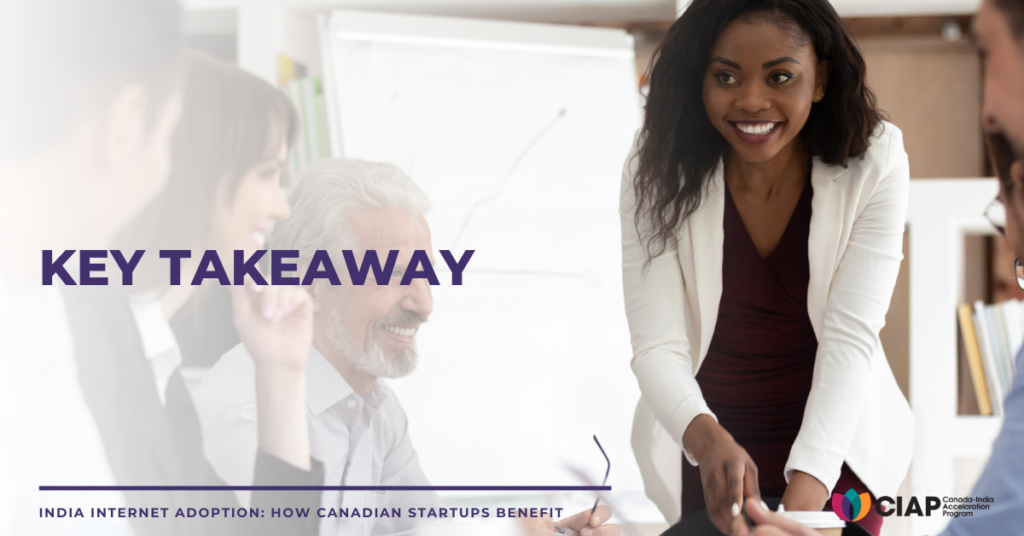 Understanding internet adoption in India is crucial to understand your potential customers and partners when expanding. Just as every country has a different business culture for you to learn and adapt to, you need to also consider the digital culture that shapes how the country communicates and conducts business. As the technology evolves, so will consumer preferences in terms of how they interact and purchase from brands.
What type of emerging technology do you foresee becoming more prevalent in a post-pandemic world?
If you would like to read more about the global state of digital, brought to you by Hootsuite, download it here: https://www.hootsuite.com/resources/digital-trends.
Check out this article to learn more about Indian business culture: https://ciaccelerate.com/canada-india-cultural-landscape-for-business/