India is recognized as one of the fastest growing emerging markets in the world with rapidly expanding sectors. Research has shown that India's economic growth could double in size within the next decade. This represents a huge opportunity for Canada-India outsourcing partnerships and Canadian businesses looking to grow in general. 
Canada and India have strong bilateral relations based on shared democracy, traditions and interpersonal connections. Around 5.6% of Canadians are of Indian heritage. Additionally, Canada's institutional investors and pension funds have invested roughly around $20 Billion in India's solar energy, infrastructure, and other projects.
With the combination of India's rapid development and the pre-existing ties with Canada, there is a wealth of avenues that Canadian businesses can leverage. It was estimated that Canadian Businesses and government would have spent approximately 7 billion CAD on technology outsourcing in 2020, the majority of which connected to India.
With this in consideration, let's take a look at what opportunities your business might explore by outsourcing and building connections and partnerships in India.
Interested in learning more about Tier 2 Emerging Cities in India? Read our summaries for Indore, Coimbatore and Vadodara.
India and Outsourcing: Opportunities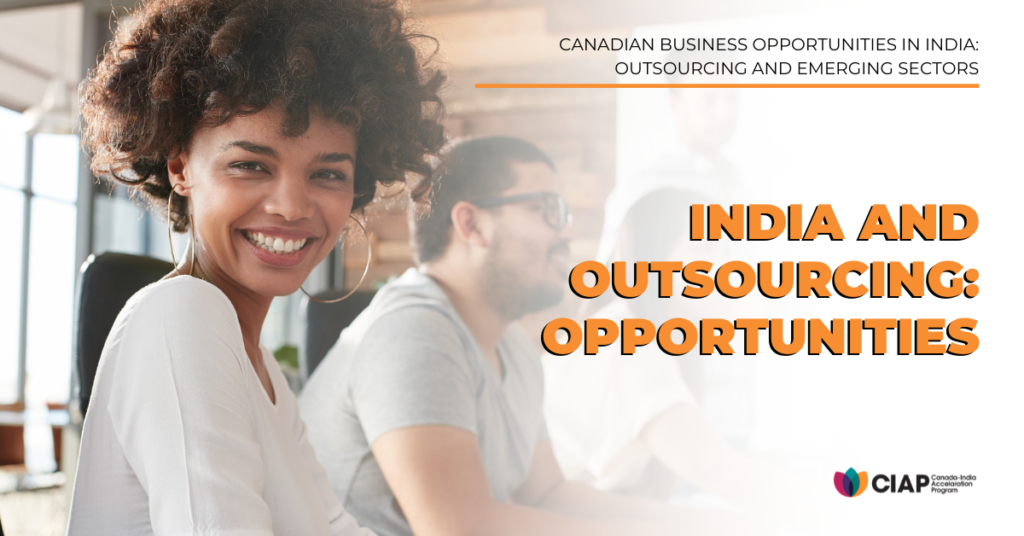 Outsourcing is defined as the practice of obtaining goods and services from foreign suppliers and is more common when there is a shortage of labour or labour cost is too high. Since 2015, it is observed that sectors such as manufacturing, R&D, IT, distribution and call centres are the major areas of outsourcing.
India has become a hub for outsourcing contracts in recent years. In 2017, NASSCOM stated that the Information Technologies: Business Process Outsourcing (IT-BPO) industry in India has managed to accumulate a revenue of around $154 Billion. This size of this industry can in large part be attributed to how many skilled workers India has. Furthermore, it is estimated that 40% of India's workforce will be enhancing their skills in the next 5 years.
Though outsourcing saves a lot of time and money, some of the disadvantages found include security threats, lack of communication, reduction in quality of product and other similar attributes.
Outsourcing: Canada-India Relations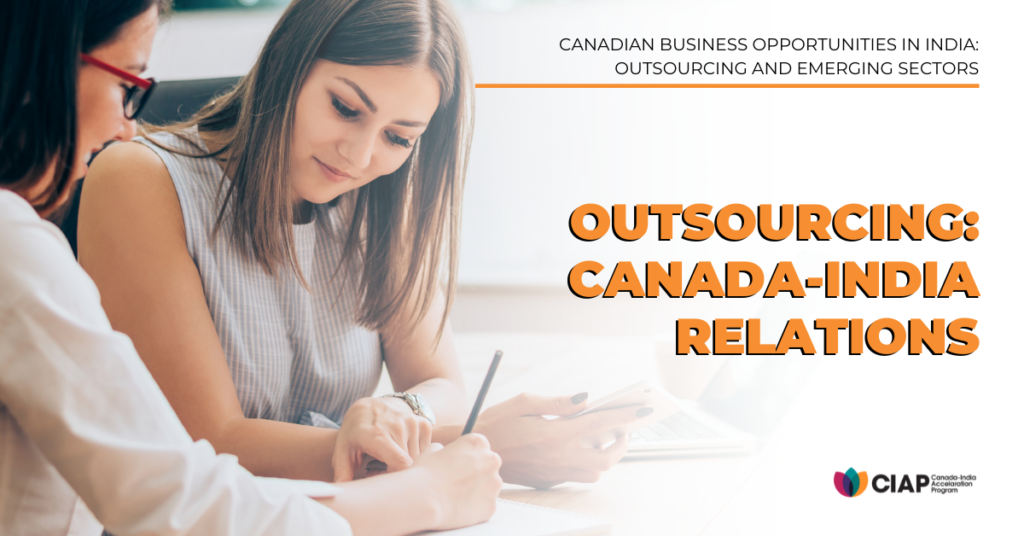 With today's outsourcing options, employers don't have to restrict themselves locally to find suitable employees. In 2018, the Global Market reported an $85.6 billion budget for outsourcing an estimated 300 thousand positions every year. Outsourcing is a big part of India-Canada relations.
For instance, a developer in Canada could approximately 70$ per hour while in India, a developer can be contracted at 15$ per hour. A recent survey stated that 80% of European and US outsourcing firms ranked India as their top destination for outsourcing.
IDC Canada found that 50% of Canadian firms are outsourcing 10% of their infrastructure and application support tasks which is almost 45% higher than the previous year. In fact, outsourcing alone is calculated to be worth around $3 billion in Canada. India is seen as an attractive destination for outsourcing from a North American perspective as it is the largest English-speaking nation in the world. On top of that, that every year, around 3.1 million students graduate in India. The established, uninterrupted communication channels are also seen as an advantage of working with India. These factors result in flexible pricing options and a large pool of talent with varying skill sets.
Emerging Opportunities For Canadian Startups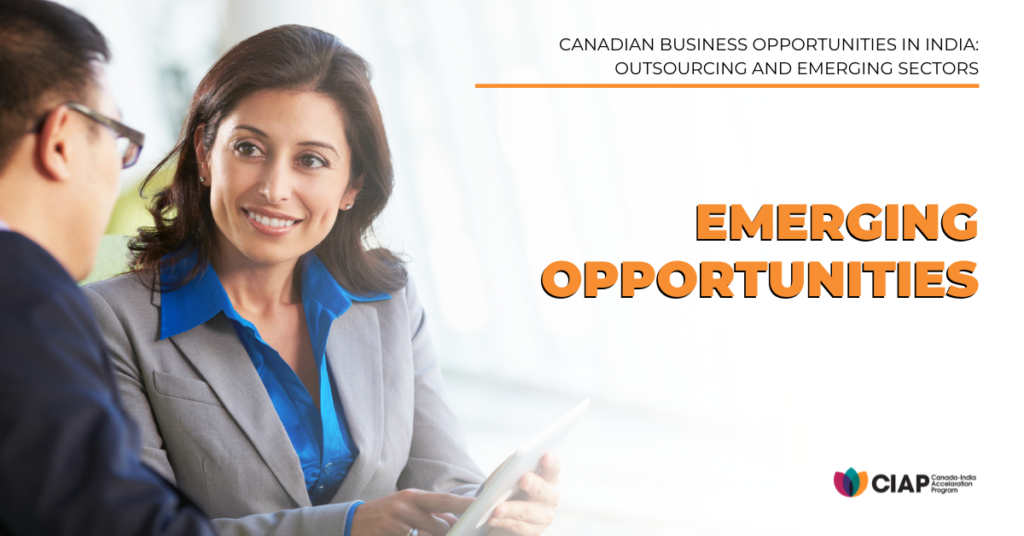 Trade relations between India and Canada are strong. India is Canada's eighth-largest export country with the majority of Canadian companies working in extractive, resources and infrastructure sectors. Besides these, there are various emerging sectors, which host a wealth of opportunities for Canadian companies looking to scale their operations.
Here are CIAP's top 5 emerging sectors to look out for:
Digital Innovation: India has the third-largest internet literate population in the world and the country is a tech startup boom. In India, tech start-ups have generated $20 billion in the last three years.
Infrastructure: Indian municipal and national governments have taken to prioritizing infrastructure. With new roads, highways, airports and other transportation initiatives, India needs $5 trillion in investment to sustain its rate of growth.
Recycled Plastics: India is facing major environmental issues with plastic pollution spreading widely. An average Indian uses approximately 25 pounds of plastics every year. This shows that the nation needs a fresh approach to deal with plastic wastes. Indian startups (such as Banyan Nation) are already working on finding solutions for this issue but there is great potential for Canadian entrepreneurs to contribute and find their footing in this space.
Solar Energy: To conserve non-renewable resources such as fossil fuels, India started adopting sustainable energy practices. In 2015, the government established a target to reach 100 Gigawatts of solar energy by the year 2022 with an investment of $100 billion. As of 2020, Indian solar farms have achieved approximately 33% of that goal. With India's keen interest in this field, there is ample opportunity for international collaboration.
Health Care: According to the India Brand Equity Foundation, healthcare has become India's largest sector. Between 2008 and 2022 it is expected that the overall industry will increase in size by $372 billion. There is a lot of local potential in this sector, but there are also voids that need to be filled. There is a balanced mixture of opportunities and challenges but considering the lower cost of operation, India is a lucrative destination for companies in this field.
Key Takeaway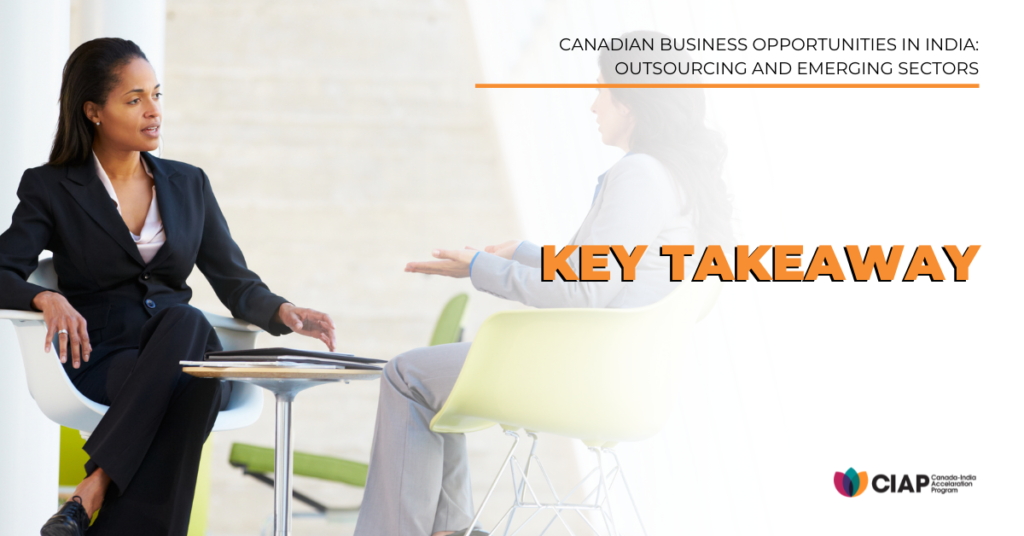 India is a paradox of mega opportunities and mega challenges. The challenges mainly come from bureaucratic regulations, strong trade unions, difficulty in land acquisition and inadequate infrastructure. Once the challenges have been overcome, however, there is room for immense growth and profit. It is important to properly evaluate your business' entry strategy and conduct intense market research for your business. Assessing the tax liabilities is also one of the parameters which need to be considered.
Take a look at how CIAP facilitates these steps in collaboration with Lead Angels.
Several multinational companies have cracked the code and are successfully running their businesses in India. It is also crucial to look into other emerging sectors in India. India is much bigger than just outsourcing. With the rising income levels of the middle-class in India, the doors for a plethora of opportunities are opening.
How would you leverage these opportunities in your business plan?