If taking the plunge into an entrepreneurial journey is not hard enough, expanding into international waters can feel like diving into the deep end. What helps us stay afloat is learning from inspiring stories, leaning on case studies, and finding similar trajectories. While every journey is unique, spending some time analyzing successful strategies can help with propelling towards broader horizons.
A combination of established strategies and a good measure of personal innovation can make for a great mix. In this post, we present stories of 3 companies that successfully made it across the shore and what we can learn from each of them.
If you are interested in expanding to India, our acceleration program helps entrepreneurs break into new markets, make impactful connections, learn valuable skills and spur venture growth. Click here to know more.
Case Study 1: Bumble, Whitney Wolfe Herd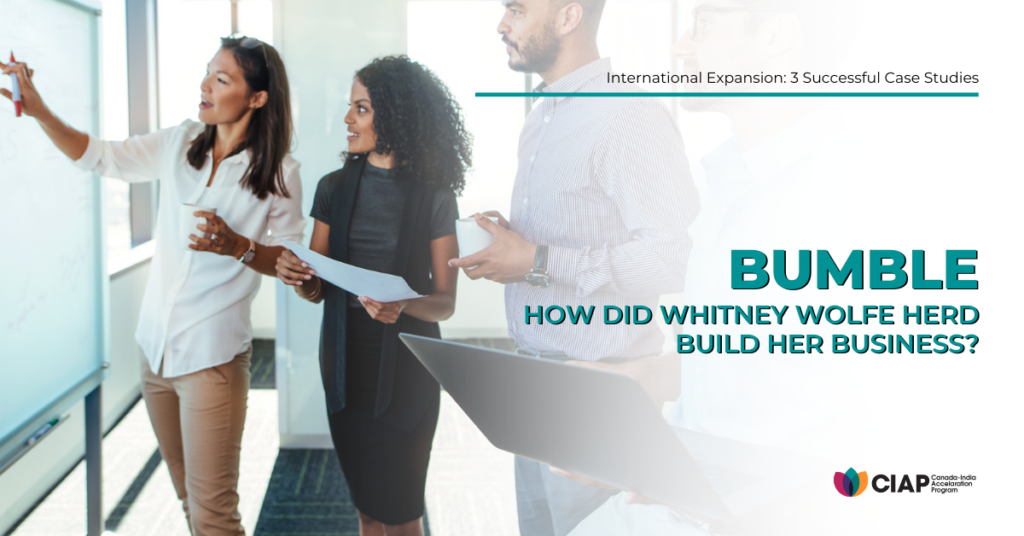 An entrepreneur at heart, Bumble's CEO, Whitney was known to have an affinity for all things business. As a 19-year-old college student, she started small by selling eco-friendly tote bags. She also partnered to start Cardify shortly after. However, that fell apart. Cut to 3 years from there, at 22, she was the Vice President of Marketing of Tinder, a company that revolutionized online dating. She walked out of Tinder a couple of years later due to a lawsuit, and went on to create Tinder's biggest competitor – Bumble
Whitney dedicated her learnings and personal experience to creating something that was at the core of her belief system – a women-centric firm. Her experience at Tinder showed her the missing gaps in the industry. She realized that women need more than just a dating platform, but a forum and an opportunity for networking to meet like-minded people and feel safe. This way of thinking set her apart from all existing and future competitors. 
Bumble was founded in Austin, Texas and gained initial traction at Auburn University. It did not take too long for the downloads to multiply, from 100k in a month to 22 million users in 2 years, it was unstoppable. Bumble rejected all acquisition offers and focussed on developing product offerings. 
The company garnered attention, investors, and partners globally over time. Celebrities like Priyanka Chopra officially launched this in India; Tennis star Serena Williams and many others came on board rather quickly. Today, Bumble is a public company and the fastest growing dating platform with a valuation of 8 bn USD.
Some key strategies and takeaways from Bumble are: life experiences can become your purpose of finding and running a company; knowing where users are and allocating key resources and marketing budgets to them will support your initial ventures into the market; brand positioning plus thoroughly knowing your customer base and then building features that can monetize, scale, and expand across markets are crucial. All of these factors helped Bumble become what it is today.
If you are interested in learning more, we have a similar post highlighting Indian Entrepreneurs: Entrepreneurial Highlight: 3 Indian Business Women We Look Up To
Case Study 2: Rootd, Ania Wyscoka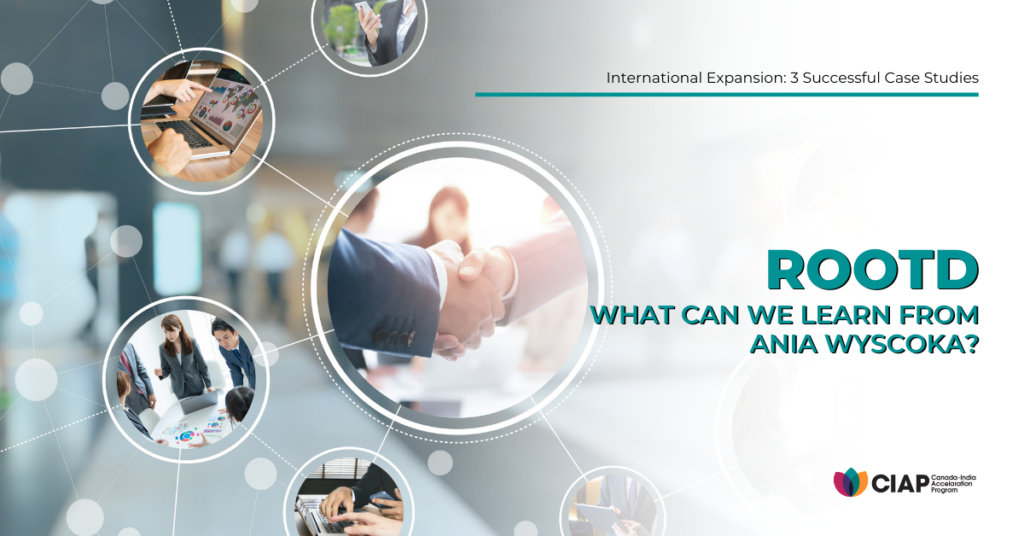 Ania Wyscoka is an International Relations Graduate from the University of British Columbia. She wore several hats through her career spanning across design, relationship-building, content curation, and project management domains helping many tech companies in Canada.
In the pursuit of her dream career at the United Nations, Ania experienced episodes of panic attacks and anxiety. This inspired her to start Rootd, as she saw a huge gap in the industry and the need for accessible tools. Lack of viable resources, limited content, design, and expensive service fees in the traditional mental health portfolio compelled her to start something that extends help to people who need it, just like she did.
Rootd is now available in over 100 countries, serving over 300k customers through Google and Apple App stores. Its international expansion was a rather unassuming pursuit;  a letter from an unknown person in Brazil opened the door for global entry. The conversation snowballed into extensive research and understanding of the mental health crisis in Brazil and making Rootd available. Even though she did not speak Portuguese, it is interesting to learn that an earnest approach to the very purpose of establishing a company can lead to sustainable and organic growth. 
An interesting takeaway is a successful spin she managed to find: a freemium model and a mix of core services through monthly and yearly subscriptions. Some pertinent learnings from stories like Ania's reiterate the idea of having conviction in your purpose and letting that be the key driver to reach your target audience. 
Through a light conversation style text and simple blog design, they are able to achieve relatability, which is the hardest part of tapping and leveraging market share.
Case Study 3 – Tealbook, Stephany Lapierre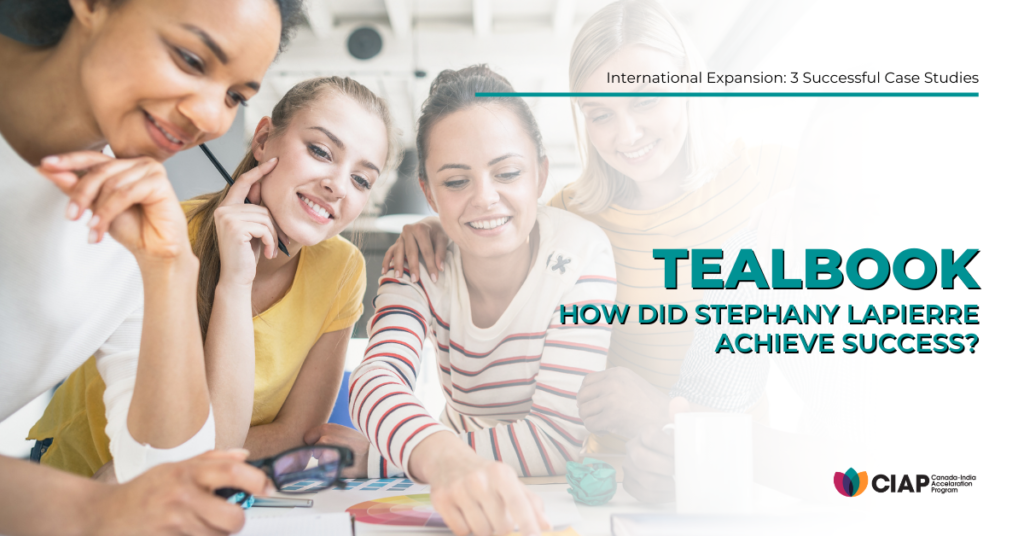 Stephany Lapierre comes from a family of entrepreneurs and knew that it was going to be part of her life too. She started her first business at 18, planning corporate events, and her second company in 2007 which was a procurement firm that went on to support Fortune 100 companies.
In 2015, Stephany started Tealbook, a platform to aggregate supplier intelligence for stakeholders. The idea was to create a single platform that could generate and provide harmonized and reliable data through advanced machine-learning concepts. 
The company was a result of a conversation with a supplier. The supplier couldn't find information about a company they were trying to work with, and that suddenly presented a huge gap and an opportunity that needed to be resolved.
Tealbook invested in algorithms even before it became the norm, which helped them stay ahead of the game. They provided solutions to their customers in a way that wasn't done by other industry players. Stephany realized very early that her company positioning itself as a data platform to leverage market-share was a more sustainable model than being a software company. 
The company raised $18 mn CAD earlier this year and was able to capitalize on the supply-chain disruption as a result of the pandemic. They have successfully expanded their operations into Europe and EMEA, and are also partnering with giants like S&P Global and Workday Ventures to expand and optimize global networks. 
A takeaway from Tealbook's journey is to have a long-term vision and work backwards, invest in the right resources at the right time, and thorough understanding of product-market fit. 
We also would like to take this opportunity to give a shoutout to one of our cohort companies, Summatti – an automation company that is a simple, no-code, AI-powered speech analytics platform to empower your in-house or off-site customer support & service teams. 
Key Takeaway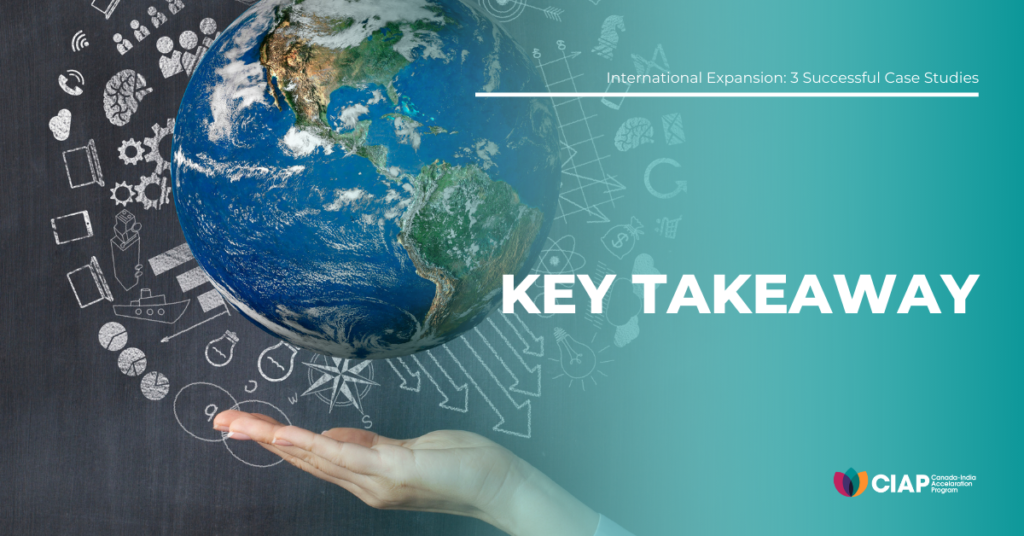 There is a pattern to starting a company and growing with it that we can establish from this deep-diving exercise. Having conviction in the purpose of the company is crucial to fulfilling a venture's potential. The ability to identify opportunities that have not just global expansion potential but warrant sustainable and organic growth is another strong indicator that your startup will succeed in going global.
Launching ideas as an entrepreneur is no easy feat. So kudos on that and if you have clicked on this article because international expansion is on your mind, that's a great next step as well. Our Canada-India Acceleration Program is still accepting applications if you have a women-led Canadian business looking to expand into new markets. 
What would you say are the biggest challenges to expanding a business globally?