Minting a dozen startup ideas at coffee table conversations is something we are all good at, but elevating it into an actual startup means real business. If you have taken that plunge, don't forget to acknowledge what a huge accomplishment that is. At CIAP, we have incredible respect for all entrepreneurs that put their ideas forward into the world, so we'd like to highlight 
It is easy to lose sight and remember that starting a company essentially means solving a problem for the community and providing solutions; while being able to scale and grow with the idea. So don't give up on your idea assuming it's trivial, you never know how it can evolve.
Since you cracked the toughest hurdle, which is founding the company, let's take it a step ahead and look at sustaining it. What does it take to sustain your business in the long term? Let's take a look.
Building a Strong Customer Base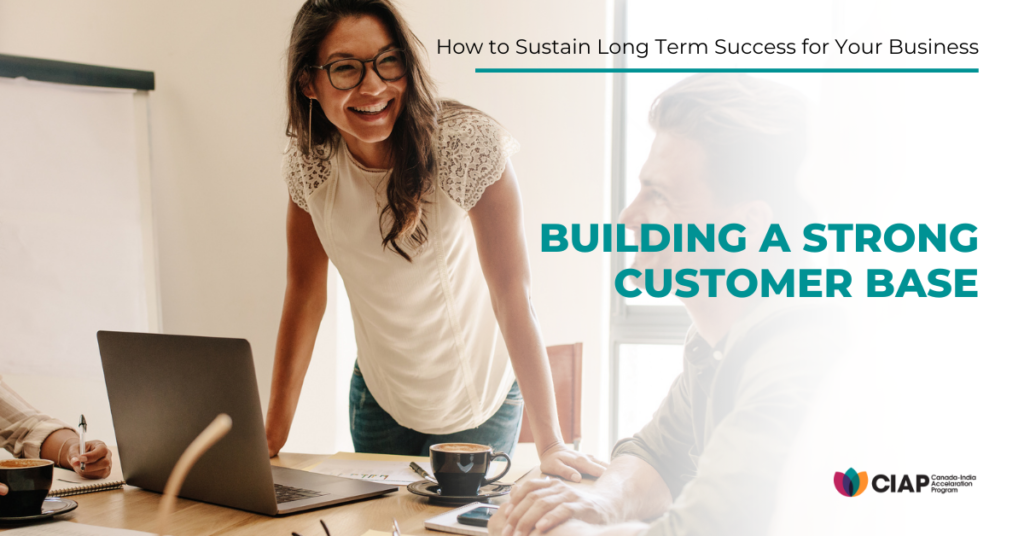 Reaching out to new markets and expanding your audience might seem like your first thought in prolonging the growth but that may not be the best focus. Fostering your relationship with existing customers and building brand loyalty has a lot of potential, so let's explore what that is.
While aggressively venturing out to build a bigger and broader clientele is imperative to growth, remember that retention gets you the bang for your buck. Only 18% of the companies focus on retention vs 40% that go after acquisition. A returning customer brings in more revenue and at least 5 times more revenue per transaction, hence it is smarter to have targeted marketing and human resources allocated to serving existing customers.
Whether you're B2B or direct to consumers, keeping their needs in mind and accommodating them allows for long-standing relationships over time. Invest in personalization tools that target the needs of each of your customers, making it a wholesome 1-to-1 experience. Optimize the power of artificial intelligence while laying emphasis on training your client-facing teams.
We understand there are many established ways of improving 'Customer Service', it is known to be important for growth and sustainability. Showing that you're invested in your customers, and delighting them at every touch-point will go a long way. And, remember that customer engagement is only an outcome and not a goal.
Here is an interesting article with insights on Customer Experience Stats for Business Leaders.
Cultivate Partnerships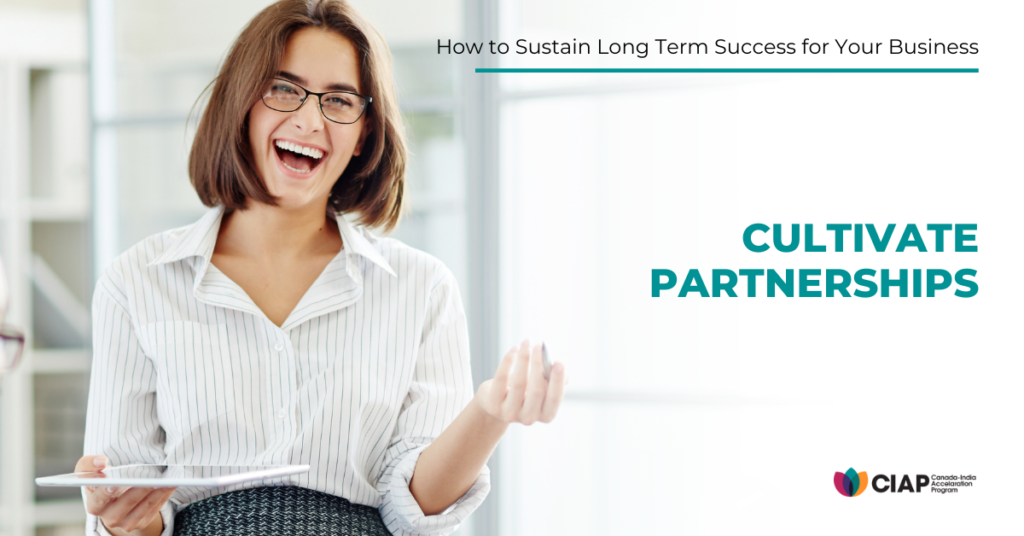 Establishing connections with entities sharing common goals is a great way to really cement your startup's position. That, however, is easier said than done. Let's take a look at some finer details on this topic.
Businesses are better together and it is important for organizations to understand this as they grow. So learn to capitalize through cultivating relationships and fostering partnerships. However, establishing a successful partnership is an art, and there are many layers to it. But it is worthwhile to explore meaningful collaborations as you receive funding and scale into the next levels.
Note that there are various kinds of relationships and varieties of partnerships you can build in the process. It could be establishing tie-ups with government organizations or grants; incubators that allow access to new ideas and talent pools; investors or VC networks for exploring complementary organizations. Each of them add value in small and big ways that will eventually compound and lead to staying in the game for the long haul.
Networking is another powerful tool that by now we know has great potential in not just fostering interpersonal relations but reaping benefits at an organizational level. Put yourself out there to understand players in not just your industry but supplementing and complementing sectors that fall within your supply chain spectrum. Never underestimate the value of having partners that simply boost your message for you doing the same in return.
Here's our post that addresses the Benefits of Partnership and How You Can Navigate the Business Landscape
Embrace Change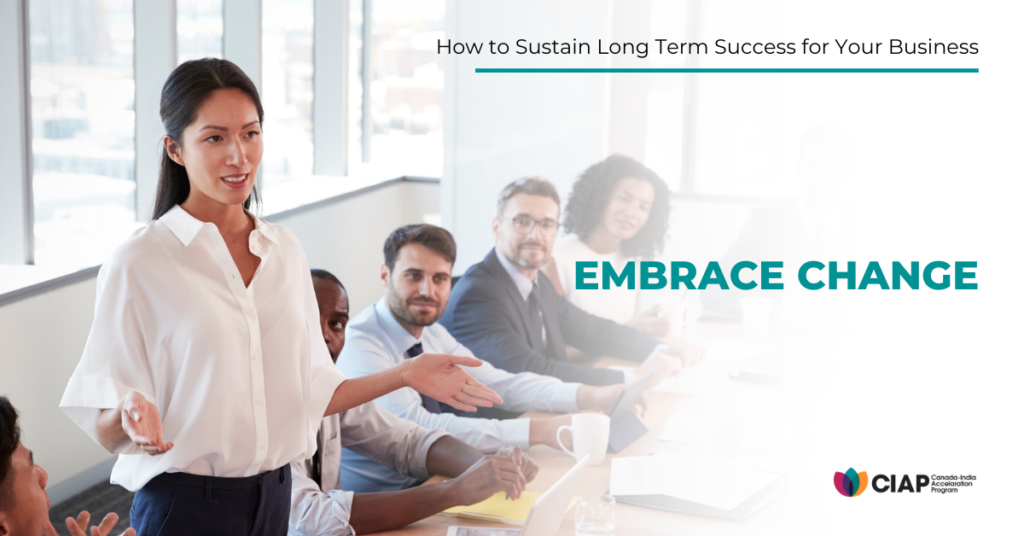 The notion of being flexible and prepared to pivot has always been a large element of the startup ecosystem which has only grown in the last few years. There's value in looking into how that might look in reality for your business.
Adaptation is the key that has been COVID-19's biggest takeaway to the world at large. Businesses needed to pivot, realign, and reassess product offerings, operations, hybrid work models etc to keep up with the newly laid out landscape. Being adaptable is an important skill to develop to sustain scale, growth, and revenue. In summary: understanding that change and growth are two sides of the same coin.
Mapping and creating strategic plans – both long-term and short-term, with flexibility to adapt to any unforeseen circumstances that might arrive. Seperate the core values of your company from things that may seem crucial (like processes, workflows, and conventional strategies) but can be altered if the need arises. Striving to achieve balance between opportunity and risk with every decision and operational process is another sustainable method to embracing changes.
The most important question to ask is: Do you have a risk management assessment in place? According to a report from 2020, only 24% of companies even have robust processes in places. This makes it easier to embrace changes, making them manageable and streamlined. Even if you are just starting out, understanding what this means is imperative for growth. Thinking about this from the get-go sets the precedent as a leader in your business.
Here's our post on Embracing Risk for Business Growth, which delves into embracing risk as a startup and getting started on setting up risk assessments in place.
Key Takeaway
While starting your company and turning an idea into a business remains the most elusive part of the entrepreneurial journey, the real trick of the trade is to sustain it over the years and keep up with growth. Business survival is the sum total of many small and big decisions – including but not limited to operational, financial, or strategic.
Some key aspects of long-term gains are building strong customer relations, embracing changes, and cultivating partnerships; calibrating your values against your goals can help you stay focussed and yield substantial results.
What is one best practice that you currently, as a start-up, have in place keeping in mind the long-term growth of your organization?